WR 7900 RADAR DATA REMOTING SYSTEM (RDRS)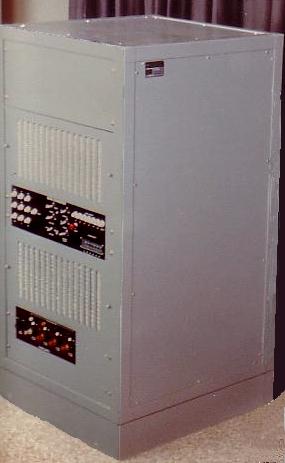 RDRS Data Receiver Rack
The Bureau purchased this weather watch display remoting system both as standalone units to be added to existing WF44 radars and also as part of complete radar systems such as the Letterbox WSR74C, the WF100-5C dual role radars and the WSR81C radars..
Made by E.E.C. in the early 80's, one system was installed on the Laverton Radar to provide a scan convertered colour TV-style display at the Victorian RFC. With the success of this system, the Bureau undertook the development of its own display receiver - the Rapic Receiver as many more receivers would be required than transmitters.
Hence the original system was permanently installed in Williamtown (NSW) in Dec. 1982 at the same time as the Letterbox WSR74C radar with its RDRS was being commissioned. This allowed for the future remoting of the Williamtown WF44 radar into the Sydney Office to be displayed alongside the Letterbox data.
Two more RDRS Transmitters were purchased and they were installed on the Darwin and Brisbane Radars, each with Rapic Receiver displays at their airport Weather Service Offices.
Quite a large network of Rapic displays was built up before the Rapic Transmitter was designed, which was to replace the RDRS transmitters. The last transmitter saw out its final days at Charleville QLD. before being replaced around 1990.