277F
The Radars: In mid 1948, 15 277F naval radar systems were purchased (with AUK antennas) by Normie Warren (post war -Bureau Director) as windfinding radars. They cost 1000 pounds each. - Well below cost. They were shipped from Portsmouth Naval Store in the UK to No1 store of Dept of Supply Maribyrnong (cnr. Cordite Ave & Wests Rd.)Victoria..(Only two were brand new!)
One of the new sets was erected in late 1948 at Bowes Ave (Niddrie) Essendon Melbourne. Meanwhile at Maribyrnong a Radar Workshop was established alongside the packing crates of the remaining radars. An external antenna was set up for test purposes and for the next couple of years the radar units were overhauled and prepared for their future land-based role. (1)
Manufactured by Metropolitan-Vickers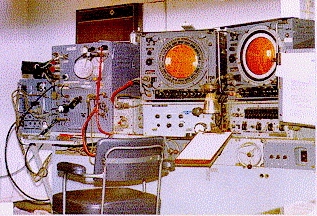 Operating console and displays

Much later two ANU antennas were obtained. (Parabolic with truncated sides.) These were bigger & slower than the AUK antenna and came with a more powerful training motor. One was installed on the Laverton radar, the other was put into storage initially. Then later sent to Sydney to be considered for installation at Williamtown but this was not done due to its poor condition.(2)

The People: Max Cassidy - ran the Met radar project as a BOM officer on loan to Airways division of the DCA.from early 1948 until Oct '51 when it was handed on to Bret Mulholland DCA head Office. Jack Kosec (DCA) designed the buildings and M R (Marshall) Fordham (DCA) - the 5 metre towers. Cassidy chose sites from Mid '48 (Hobart) - Conclurry, Charleville, Eagle Farm, Laverton, Perth, Forrest, Rathmines - changed to Williamtown, Lord Howe Island, Port Moresby (- not installed), Alice Springs, Darwin, Port Hedland
Geoff (Benny) Goodman, the Bureau's first engineer, took over from Max in 1951 and commissioned nearly all of the 277F radars - He retired about 1968 having played a major role in building the Bureau's radar network to over 25 radars.
After the Department of Civil Aviation (DCA) installed radars at Perth and Laverton using 12 technicians and taking 12 weeks to install each it was decided that the Bureau would do its own installation work.So in August 1955, Reg Stout took over the installation program (at a lot faster pace).installing the last six radars. Reg worked for the Bureau for 36 years and in that time oversaw 160 major installations! (3)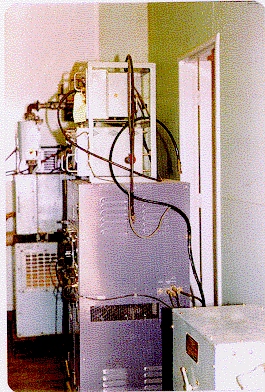 Transmitter and Receiver
From Sea to Land
As the years passed modifications were added to these radars to make them more suitable for land based meteorological use than there original purpose of defending the British Navy whilst at sea..
One of the less electronic modifications was the fitting of a small round mirror beside the A scan display. This allowed one man balloon operation as the operator could now see all three displays from the controls. In the picture of the console above the circular mirror can be seen directly above the chair armrest.
Initially a technique of threshold detection of rain using IF step attenuator, and the PPI phosphor's characteristics was employed to provide the threshold of detection. Later Alf West improved this with a transistorised video thresholding circuit known as the iso-echo discriminator and the application of swept gain to the IF stage. This removed the vagueness of the video/phosphor threshold system. The addition of a Traveling Wave Tube amplifier from Marconi improved the receiver noise figure, probably in the order of 8-10dB, thus increasing the maximum tracking range. These TWT's were fitted to some radars though not all. Similarly the Swept Gain and "iso-echo" unit was only fitted to some radars, such as Eagle Farm(Brisbane Airport), Townsville and Bowes Avenue.
Charleville, though it boasted the TWT modification, bore the unwanted attraction of the local crows. Peter Copland, resident tech for three years in the 60's, says he must have replaced it ten times. The radar was plagued with problems from its gyro elevation stablisation system - which was not required for land based use. Only the CSIRO was sensible enough to remove that system from its unit at Aspendale in Victoria - the Bureau techs had to fight it for the life of the radar.
An Observer Instructors Aid
One interesting training device used to provide a simulated PPI display, was the front section of a 277 PPI Display Unit fitted with a movie projector behind.
- Technician memories and tales!
References
(1) "If I Remember Rightly"- Max Cassidy
(2) Trevor Donald (private communication)
(3) Metarch Papers No.8: "History of Major Meteorological Installations in Australia 1945 to 1981 - Reg Stout"