WF44
Pre Australia
The WF44 was designed by Decca Radar Ltd. to meet the Bureau's specification for an automatic balloon following radar. This was extended to encompass weather watch capabilities with precipitation measurement facilities. Gwyn Court from the Bureau traveled to the UK in June '64 to examine the prototype and accept the design.(1)
Within about eight months Decca sold this division of the company to Plessey, who were able to use the original Decca design team to assemble the first production radar of the seven on order. In September 1965 when Gywn Court and Alf West went to the Isle of Wight, the Decca team had left and a new Plessey team was responsible for the production of the radars.
The result of this change meant that a number of technical problems were not recognised and the expertise to evalute the full system performance had not yet been learnt by the new team. Gwyn Court stayed for about six weeks but Alf West was to stay on in the UK until the following February, to help solve the problems and complete the testing of both the first and second sets.(1,2)
The main radar factory was near Cowes on the Isle of Wight, and the PPI & RHI displays were built at Tolworth near London.
The First Seven vs The Rest!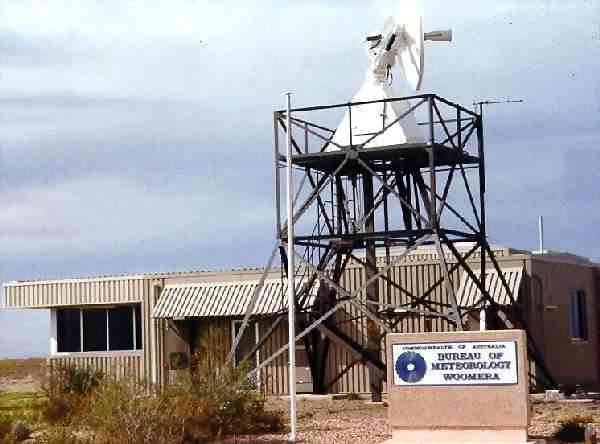 WF44 radar at Woomera S.A.
The initial contract placed with Decca called for the supply of seven windfinding radars with weather watch capabilties. They were very successful and this led to a second contract in 1970 for another twelve WF44 radars at a cost of two and a half million dollars.. A Federal Government requirement for an amount of Australian manufacture in the second order was met by the Tracking & Data rack and Scanner Control Cabinets No. 1 & 2 made by EIL (Electronic Industries Ltd) in Clayton Victoria.(2) Thus these later radars were a combination of an Antenna, Transmitter/receiver and Display being from the U.K. whilst the above-mentioned racks were manufactured in Australia.
The Extras
Over the years two more 44's were bought by the Bureau; one for the RAAF base in Butterworth Malaysia and finally the original prototype from the factory.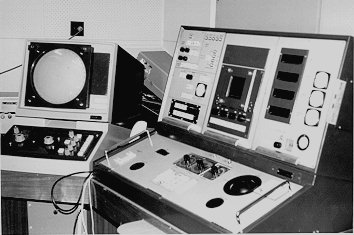 PPI & MCU - WF44 Radar Mackay Qld.

(1) Weather News(#95 & 110)
(2) A.L.West (private communication)